I'm trying hard not to make a habit of rolling two months news into one news post, I'll try to keep things monthly! A few big stories since the New Year, probably the most contentious was 123rf changing their royalty rates.
123rf New commission structure
This story starts back in December when some 123rf users received a message (I didn't find out about that till January when I logged in and there was a message on the log in page) about a new commission rates. A thread on microstock group follows the events. Originally the changes were to affect new users only, with existing accounts being grandfathered:
All existing contributors shall continue to enjoy the current 50% nett commission share ONLY IF they fulfill ALL of the following criteria.:

Have registered with 123RF.com before February 1, 2012.
Have at least 150 accepted images in their respective portfolios by January 9, 2012.
Have had a minimum of 10 paid downloads by January 27, 2012.

All new contributors who start submitting images to 123RF.com AFTER January 27, 2012 OR do not meet all the criteria above shall be enrolled under the new commission structure.
For our veteran contributors who have been supporting us all this while, we thank you for your support and we will try our best to grow the business further in 2012. We will also try our very best to maintain the levels of 50% nett commission to you for as long as possible.
However by February that had changed to affect all users:
123RF.com will be changing its Contributor Commission Payout on January 1, 2013. From now till then, 123RF.com shall continue paying our Contributors at a rate of:

50% net value for credits

$0.36 per download for subscriptions

From January 1, 2013 onwards – 123RF.com shall adopt the new Contributor Commission Payout schedule depicted in the table below

(See the 123rf site for details about how credits are accrued - they are related to resolutions / media types downloaded, e.g. if you sell a lot of high resolution images you will only need to sell 100-200 of them to reach the 3rd tier with 1000 credits in any given previous 12 months.)
My thoughts on all this are:
123rf's original 50% rate was way higher than all the other major agencies.

The new 30% offer (basic) is higher than all the top agencies / compares favorably against dreamstime (see a table of commission rates). The other low tier agencies still offering 50% seem to be "struggling".

The assertions by some stock photographers that they created the images and they "deserve the lions share of the sale price", I personally think is complete rubbish.

Despite rises in prices of images/credit 123rf are still cheap compared to other agencies (middle of the table) about 40% cheaper than IS, SS and DT. Although I placed them 7th in earnings last year - see below (7th is not a bad place to be!)... an increase in price or just a few more sales would easily pop them into 5th place for me.
Other News
Bigstock celebrated 10 million images just after new year (doubling their image collection since June 2010).
Cutcaster Announced they had 1 million images in their collection, it's taken some time to get there.
Shutterstock Posted an interesting infographic on design trends and how they have changed over microstock's short history. If you are a shutterstock member you will likely also be aware of changes to their image use policy regarding sensitive uses, you can opt in or out at any time for making your images available for use in circumstances that would not normally be allowed by their standard license terms (images sold under this license are done so at a premium price point).
2011 Earnings Retrospective
According to my earnings over the past 12 months, it seems that 2011 was the "year of shutterstock". The chart below shows my earnings at 18 agencies for comparison - image sales only, referral income is excluded, also see the notes below the graph.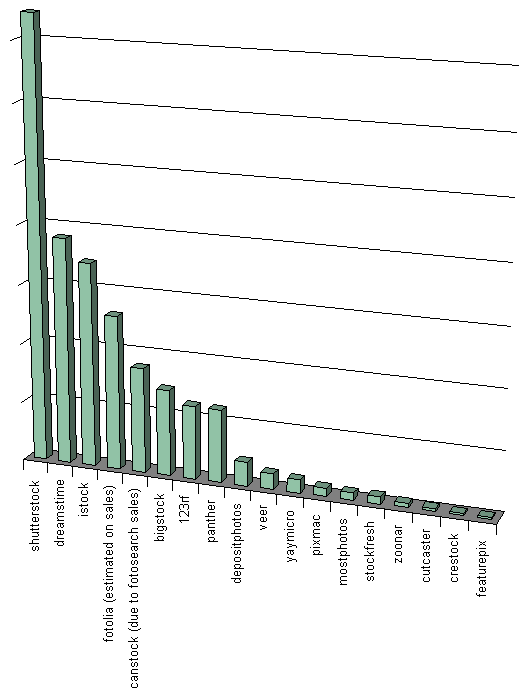 Notes: canstock would be somewhere ahead of deposit photos if it were not for several high value fotosearch sales (but it seems reasonable to include these in the chart)
Fotolia results are estimated based on number of sales, exact value of sales cannot be separated from affiliate revenue at fotolia.
On Other Blogs and Forums
Shutterstock Forum: Where is microstock headed in 2012
Mystock photo on Crestocks 4 million celebrity image collection
Nil to Mil to close - Matt announced he was moving on to new projects
A long discussion on microstock group about istocks best match system - having had 2 months to look, my sales volume is down on last year but their value is higher (it equates overall to a small drop in income that is perhaps not so surprising due to my lack of fresh uploads over the past 12 months, so far its not as miserable as it looked in the first few weeks of the year).
See our twitter and facebook pages for more regular news updates