Our Review:
From a contributors perspective the upload system at deposit photos is rather slick. From day one Depositphotos have caught my attention for a few reasons, mostly because they seem to mean business. Too many new sites launch with a bit of 'creative emailing' and a few well placed "oh i've just found..." forum posts, but these guys seem to be taking the right steps (advertising, incentivising new uploads, giving their feedback on forum threads etc.). But that still does not guarantee success.
Getting Traction
In order to get a 'critical mass' of images before buyers started to take the site seriously Depositphotos embarked on a promotion campaign, basically paying their way into the marketplace. They offered an opt-in "promotion program" giving 20 cents per accepted image - this offer is now closed.
Deposit photos are now manually targeting photographers that they consider interesting to encourage them to upload bigger portfolios. In exchange they reward the first 500 uploaded images with a $0.10 bonus. Furthermore they have a system that allows promoted photographers better placement in the search the database, these photographers are also offered help with ftp upload and attribution of images.
Sales
Importantly from what I can see depositphotos search seems to very work well. A nice choice of image styles is returned for simple one word searches rather than just spewing out all images that contain that keyword in order of upload. At present for my favorite test term 'apple' the results look a lot like those at the big 5, depositphotos appear to have their own 'best match' algorithm, good search is critical for the success of a microstock agency.
Deposit photos prices vary by photographer level (images of 'better' photographers cost more).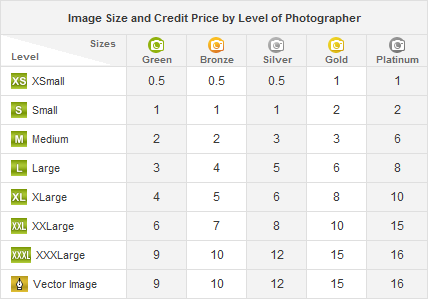 Photographers Area
It works quite well... at least from the point of view of uploads. You can leave a directory of files uploading via ftp, then automatically the uploaded files appear ready for you to select categories and submit. There is no button to "process uploads", no clicking a button to copy over IPTC keywords into a list of keywords, and no pointless screens with "thank you for your submission click back to submit more images". Other agencies pay attention to the number of mouse clicks here - 1) click an image, 2) click one or more dropdowns to categorise (model releases omitting) 3) click submit and you are back to a screen where you can click on another image to categorize.
Royalties are tiered based your level, which is based on the number of sales you have made. 44-52% non exclusive and 50-60% for exclusive contributors.
Conclusion
Well it seems that the upload incentive worked, more than 18 months after my initial review the site has 5 million images, and a nice trickle of sales - like so many of the 'second rung' of microstock sites Deposit photos is certainly not dead, but is also not up there with the "lead pack". With a portfolio of 500 images you'll probably still be waiting a long time to reach a payout.
Like I always say... you should prioritize on uploading your work to the big 5 and then if you have time and a large enough portfolio to the other second tier sites like this - but deposit photos are moving very quickly and I'm very impressed with what they have done so far... I don't think it will be long before we count DP amongst the 'main' microstock sites.
I'm uploading, and looking at the way the numbers grow on the site quite a few other photographers are also doing so. Looking at the search results these numbers seem genuine. I'll let you know more info as I get it.
I saw a positive looking growth in sales figures over the 12 months to Jul 2012.