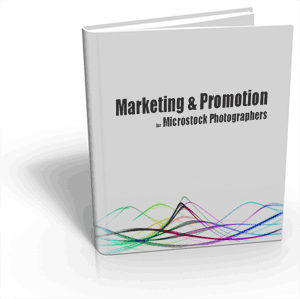 37 Pages of Practical Marketing and Promotion Know-how. Specifically Designed for Microstock photographers and graphic artists.
Topics Covered:

Marketing Terminology Primer
Marketplace and Customer Analysis
Creating Content Based Sites and Blogging
Email Marketing and RSS
Audience Segmentation and Timing
Earning from Microstock Affiliate Schemes
Social Promotion / Social Networking
Writing Headlines and Copy 101
Achieving the Right Goal for the Audience
Converting Increased Attention into Money

What You Will Learn:

Demographics, understanding image buyers and choosing the most effective marketing tools to connect with them.
Targeting, find the right people with the right message at the right time and via the right medium.
Selling, how to keep visitors returning to a website and how to convert visitors into image sales.
Subscribe to our email list for site updates and we'll let you download a PDF copy for free.
You can unsubscribe at any time.
Once your have submitted the form we'll send you an email to confirm your address and then send you a link to download the marketing guide.
Feel free to add comments about the guide comments below