Picworkflow officially launched of their "in development" retouching service at the start of the month. The service allows photographers to select from a series of processing and retouching options including having each image go through a quality review where retouchers will suggest which services are required or remove services if they feel images are not of sufficient quality. More information via the picworkflow home page. (Read our previous review of the picworkflow distribution and keywording services)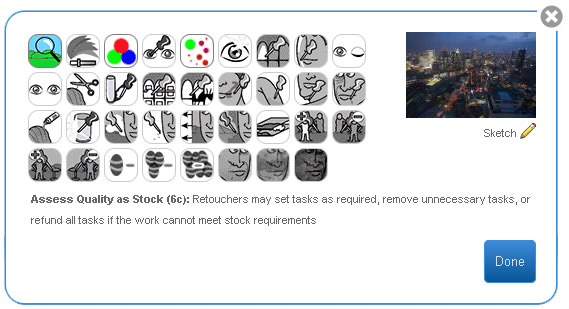 British Journal of Photography reported on the sale of Getty images for 3.3Bn.
Snapixel have announced they will be closing as of 31st Aug, It seems they were the last site to freely host photographers work for sale (payment via commission taken at sale time). Options now are smugmug, photoshelter or a similar services which charge a monthly hosting fee.
Mystockphoto took a look at the Microstockr iPhone App, the app allows contributors to monitor their earnings on 12 agencies.
Panthermedia announced a new pricing structure, the new structure attempts to make the most of popular and "lavishly produced" images while still leaving budget priced images available for price sensitive buyers.
Depositphotos are now accepting video footage, royalty rates as follows: (mouse over to see exclusive rates). More on this at microstockinfos.