To almost universal joy of most microstock photographers dreamstime (read our review) have announced a new pricing stucture.
But the new prices will knock them right off the top of the list of good value places to buy photos. For our typical 1600x1200 price comparison the old pricing structure placed the cost at $1 (1 credit). With the new structure the cost of that image will be $3 and if that image is a popular image with say 20 downloads then the price will jump to $7 (7 credits). The new pricing introduces a dependency on the number of times an image has been licensed (downloaded).
Of course there are discounts for those who buy multiple credits, and the new pricing structure will make the dreamstime subscription offering (price unchanged) seem more attractive. The new structure should see a significant increase in photographer incomes from dreamstime provided that increases do not bring a reduction on sales volume.
New extra small size image will allow low cost use (from 1 credit) in applications like blogs.
The change in pricing is not entirely a surprise, apart from some of the 'crowd' of low sales sites which don't rank in our top 10, dreamstime were the only site to continue to hold the original microstock sales line of '$1 per image' (and by that I mean a decent sized image that can print at 4x6 inches 300dpi) The other 'first tier' sites have long since raised their prices to $3-5 for such images.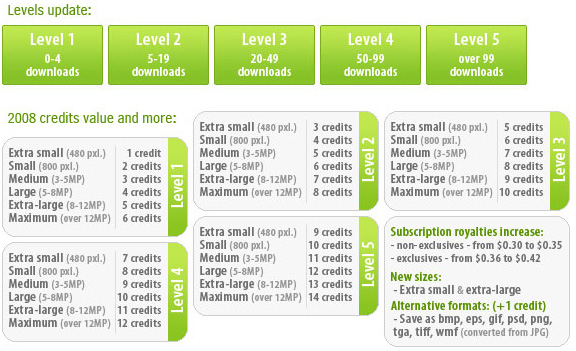 Details on the dreamstime blog.